Last fall we visited Chicago. Our friends live in a neighborhood that could be described as failing to thrive. A majority of the inhabitants struggle with high drop-out rates,
low employment,
and higher crime than the city as a whole.
However, there are some real bright spots there, one being the Windy City Green Youth Farm sponsored by the Chicago Botanic Garden and 35 community partners.
"
Since 2003, the Youth Farm program has achieved the following: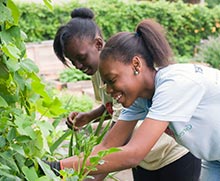 Provided after-school and summer jobs for more than 600 youth
Harvested and sold more than 100,000 pounds of freshly grown produce at farm stands and in neighborhoods identified as food deserts..."
The students also sell their produce to the Garden View Cafe. When we ate there we enjoyed fresh, healthy food at very reasonable prices.
Unfortunately, it wasn't open but through the fence we could see how lush raised beds and planters.
The colorful mosaics provided beauty on an otherwise blighted block. Art can inspire hope as well as success does.
Similarly, Birmingham, Alabama's Jones Valley Teaching Farm is a win-win for the community. They raise 200 kind of vegetables, fruits, flowers and herbs on 1.7 acres.
Gardening teaches planning, simple biology, persistence, and the pay-off for hard work. Participants learn business basics, nutrition, and cooking skills.
Many cities have unused land. Can you think of a better use for it?